The Net – May 2020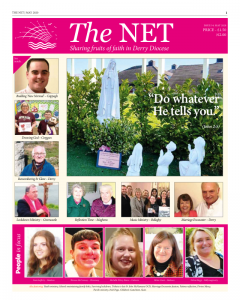 WITH the Covid-19 restrictions still in place, the May edition of 'The Net' will only be available on the Diocesan website at this stage. However, the publication will be available again in parishes when the restrictions are lifted.
Coverage in this month's edition includes:
JPII updates from Clonmany and Iskaheen
Youth Ministry online
Schools maintaining spiritual support for pupils
Diocesan Catechetical team keeping focus on faith
Drawing God feature – a catalyst for more God talk
Iskaheen JPII leader reflects on parish life as extension of family life
Building 'new normal' centred on Christ by Davog McCaffrey
Surviving lockdown by Lizzie Rea
Sr Clare Crockett's family overwhelmed by depth of devotion
Bellaghy blessed with amazing music ministry by Mgr Andy Dolan
Ministry in Lockdown by Fr Eddie Gallagher
Maghera reflection time source of comfort
Parishioners praise their 'unsung heroes'
Faughanvale reflection on Fatima
Online prayer important link with parish community by Fr Colum Clerkin
Ballymagroarty teacher, Delma Boggs shares devotion to Our Lady
Internet services big hit in Ardstraw East
Culmore parishioner, Michelle Burns shares faith story
Parish Post-its
Irish Page by Fr Oliver Crilly – Críost Mhachaire Rátha
Parishes celebrate Divine Mercy
Fr Gerard Mongan reflects on Our Lady's last recorded words
A Word of God for Your Family Life by Fr Johnny Doherty CSsR
Derry couple enjoy golden years after Marriage Encounter enrichment
Tribute to late Fr John McNamara OCD
Children's Catechism Club by Veronica Harley
Bishop Donal on staying prayerful and open to God's promptings
Maytime contemplation in lockdown by Patricia McCormack
Boats that sailed by Vera McFadden
Trocaire Feature by Caoimhe de Barra CEO
Quiz Time with Lawrence.
For inclusion of your faith news in future editions just email: editorthenet15@gmail.com
https://www.derrydiocese.org/